Summer is a great time to make money over the summer. The weather is great, and people are simply out and about enjoying the weather.
How to make money over the summer is not as hard as you might think. With planning and dedication, you can make this summer season into cash flowing one!
There are many ways to earn extra cash, I have covered them all on my other blog, My Stay At Home Adventures, and honestly, it all depends on you.
Today I wanted to give you ideas on how to make money over the summer to encourage you to earn that extra cash.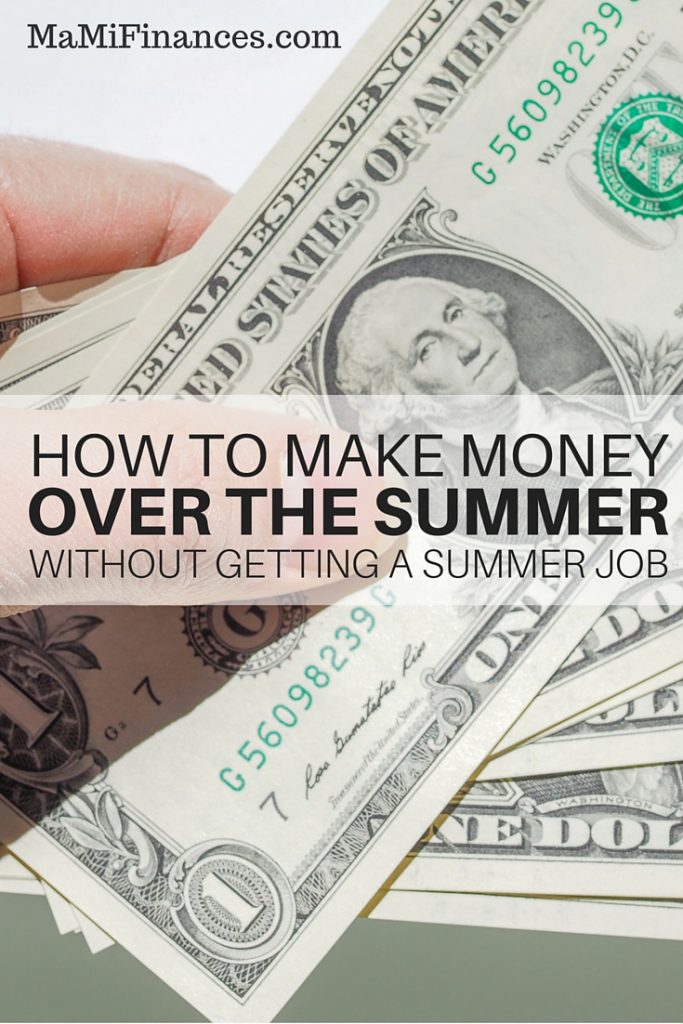 12 Ways to Make Money Over The Summer
Babysitting
Babysitting is one of the top ways to make money this summer. Many families struggle during the summer to find good care for their kids during the summer break. If you know someone that needs a babysitter offer your service to earn some money this summer.
Dog sitting
During the summer many families enjoy vacationing and family getaways, for many of them taking their pets or a pet with them is not possible for whatever reason. Summer is a great time to offer dog sitting services to earn extra cash.
Here are some benefits as to why dog sitting might work for you:
You love animals
Make your own hours
Earn as much, or as little money as you want
Make people happy
House sitting
Again, offer your services to house-sit this summer when families are going on vacation. This is a great way to make some extra money this summer. Below are some tips to help you be successful at house-sitting:
Get clear instructions
Get all information necessary
Get all contact information
Determine all the rules
Be responsible
Start a blog
During the summer season if you are interested in earning some extra money this summer start a blog. However, as easy as this may sound it just doesn't happen overnight unless you know what you are doing.
You can start a blog in 5 minutes if this is what you want, but again, this takes time for the money to trickle in. You can learn how I make money online by following my income report.
Yard sale
You can have a yard sale to make money this summer. Having a successful yard sale depends on you and how well it is planned. You can make money while getting rid of things you don't need.
Below are some tips to have a successful yard sale:
Price items
Price to sell
Make sure items are sellable not broken
Keep your yard sale organize
Advertise as much as possible
Pay attention to your customers
Have change
Have bags
Make money from your garden
If you have a garden and are really good at gardening, you can make money from your garden this summer. Sell your vegetables and make some extra cash.
Carwash
Ask your family and friends if they need their car wash? This could be a fun activity to involve the entire family.
Yard work
Offer your service to the neighborhood to help out with yard work. Mow the lawn or any activity that involves yard work will be a great way to earn money this summer.
Sell online
If a yard sale is not your thing why not sell your unwanted items online. Sites like Facebook, Ebay and such are a great way to sell items.
Use money making apps
If you own a smartphone or a tablet chance are you have heard of money making apps that pay you for shopping. Use these apps and take advantage of their rebates when you go shopping.
There are many rebate apps out there, below is a list of my favorites and must-have apps that will help you earn money.
Online pay surveys
Online surveys are a great way to make money this summer. Though it may take a long time, online surveys do work.
Below is a list of legit survey companies:
Swagbucks
This is a company that I have used for many years. The reason why is because this company called Swagbucks does it all, online survey, games, search, coupon, and more and it rewards you for it. I earned free gift cards which help me out to during the holiday season.
There are so many ways you can make money this summer it is up to you. The good news is that you don't have to get a second job or a part-time job to make money this summer.
What other ways do you earn money during the summer?