Aldi seems to be stepping up there marketing game. Chances are you've seen commercials on YouTube featuring the store's products.
But are all Aldi products a good price or good quality? Like any other store, Aldi has its hits and misses. There are items that people swear by and there are those that people hate.
What to Buy and Not Buy at Aldi
Let's take a closer look at what people love about the store and what you should and shouldn't buy at Aldi.
Why Do People Love Aldi?
Aldi isn't your average grocery store. You'll notice that as soon as you go to get a shopping cart and realize you have to insert a quarter, which you get back upon returning your cart.
You may also notice that products aren't removed from boxes and cashiers don't bag your items. You'll do a lot more of the work at Aldi, but that's what people love.
When you're doing more of the work, the store is able to keep the prices lower. Another way the store keeps their prices lower is selling their own brands.
Most of the items you find in Aldi stores are Aldi brands. This allows them to cut out the middleman.
People also love that the store changes some of their offerings based on the season. For example, during the fall and winter months you'll see more baking products, imported candies and treats, and gift items.
Of course, if we want to get down to the nitty gritty of why Aldi is such a popular store, we need to look no further than their return policy.
If you don't like one of their brand name products, not only will they give you your money back, but they'll give you another product. It's known as their Twice as Nice Guarantee.
How can you go wrong trying their products with that guarantee?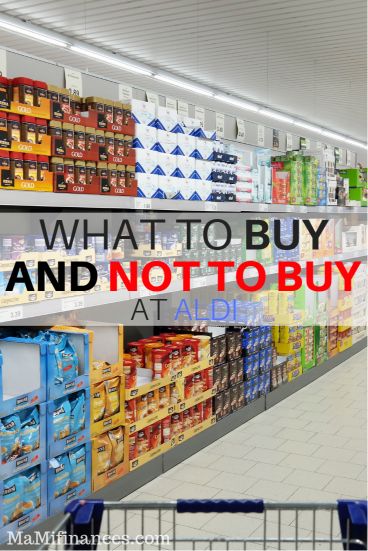 What You Should and Shouldn't Buy at Aldi
Aldi has many great items and great prices. But not everything you buy at Aldi is a great deal. Some products may also be poor quality. The good news is there are just as many excellent buys and yummy products to try.
What To Buy at Aldi
Milk and dairy products
People swear by the milk at Aldi. In most areas, it's the least expensive place to pick up a gallon of milk. You can also save on butter, cheese, and other dairy products. Always compare prices to make sure you're getting the best prices.
Seasonal items
Aldi is well-known for their seasonal offerings, especially at the holidays. If you're looking for something unique to serve your guests, visit Aldi and check their offerings. You'll also find great prices on your baking needs during the holiday season.
Pantry Items
Aldi is often a great place to stock up on flour, spices, nuts, pasta, rice, and other staples you need on a regular basis. Again, compare prices. If there is something you use a lot of, check to see if the unit price is as low as that of a big box store.
Gluten-Free and Organic Foods
Aldi is a wonderful place to purchase specialty foods, such as gluten-free or organic foods. The prices are much lower. The store also has a fairly decent selection of products to choose from.
Store Label Products
It's best to stick to Aldi brands when shopping at Aldi. The price is much, much lower. And, one of the favorites among many shoppers is the chocolate.
What NOT to Buy at Aldi
Produce
You may see a lot of gorgeous looking produce in Aldi ads. Unfortunately, what you see in the store is quite different. The produce is normally on its last legs and is only worth buying if you plan to use it right away.
Meat
Chances are the other grocery store brands in your area, even Walmart, will have a better price per pound on meat, especially chicken.
Zip Top Bags
Love to do freezer meals or buy meat in bulk and freeze for later? Then stay far, far away from the freezer bags at Aldi. They are poor quality and may not be able to hold up to your needs. Don't be fooled by the low price.
Brand Name Products
Aldi strives to offer customers the best price by pushing their store brands. You'll actually see very few brand names offered at the store. When you do, pay close attention. The prices can be much more expensive than other stores.
The truth is Aldi is a great store. However, like other stores, you need to be careful with what you purchase.
Compare prices to make sure you're getting the best deal possible. And, don't be afraid to try Aldi products. With their Twice as Nice Guarantee, you really can't go wrong.